Hello, and welcome to my site, Tea Jubilee!
My name is Rebekah Kann, and I am the proud owner of Tea Jubilee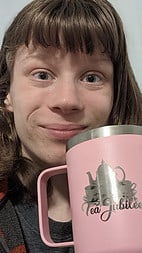 If you're finding my site, I am so glad you dropped by; I have this site not only to learn something new, but for you (The reader), you will learn about new teas and the health benefits of the recipes, and even some giveaways from my site.
Now, I am sure you're wondering what this tea site has to offer; this site is excellent if you're a tea-lover, and I even link to sites I recommend. 
So here is where I get personal with you.
I am from Orlando, Fl. I am the youngest of 9 siblings! Yes, you read that right. 
I love anything that has to do with tea, books, and even Karate! I started a new site that talks about what My twin and I learn in our karate classes. You can learn all about our website by clicking the name of our site below. 
TheKarateTwins is also on most social media. Feel free to follow, like, and subscribe to our youtube channel! 
I have two nephews; Julian is three years old. And Liam is turning one very soon! 
If you want to contact me, You may do so at this email: Rebekah@TeaJubilee.com. If you have any questions or advice, you want to give me, feel free to email me! 🙂
I am also on Facebook @TeaJubilee. Twitter @tea_jubilee. Instagram @tea_jubilee
I hope you will share this site around, and I also hope you find this site helpful! 
Thank you for reading. I look forward to hearing from you very soon.