Tea lovers gift ideas.
Okay, here's a quick story about how my family gives gifts to all the siblings in my family.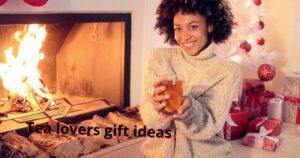 Sometimes when I am online looking around for gifts, I tend to ask the person I am going to give the gift to if someone else would like it, they usually say something like. "Oh for sure! I'd even like it!" See, All you have to do is be a bit sneaky with gift ideas, don't tell them it's for them but if they are saying they'd like it give it to them for sure!
So, that's what this is here for, not only does this guide help you choose the best gift but it helps me as well, Now I know a few siblings that would love something like the travel tea mug from this site, but I know that some wouldn't as well. I hope you enjoy reading this post and let me know what gift idea was a hit with someone you know.
As you surely know by now, thanksgiving coming up, I am thinking of what to give my family for Christmas. Does anyone else relate to that feeling?
But If you know someone that loves tea and would love something to make their day better. I have a list of tea gift ideas that you might want to buy for the tea lover in your life.
So here's what I have for you.
 As you may know by now, most tea lovers could never have too much Tea or too many tea-themed items at their home. (Sounds good to me!)
I have rounded up the best gift ideas for tea lovers so you can surprise them with some fun, new things for the next tea time.
Still, looking for a gift? I've got you covered!

Twelve gifts for the tea lover in your life:
A box of high-quality tea bags. 
My mom and I love Adagio tea. And they have so many great teas to look at. Two sets that I have gotten and loved are the Green teas of China. And the as well as holiday cheer tea box.
What am I talking about? Well, let's start with the Green tea of China. It's with four teas that I loved every time I had a cup of one of them.
The first tea in this box is Dragonwell. This tea has a slightly nutty flavor and has a sweet rounded flavor. I thought it was a dry kind of tea when I had this tea, but as you drink more of it, you will get used to its taste.
White monkey is the next tea in this box, Now this tea was new to me, and I haven't ever heard of it, but If I am talking about this tea, you can tell how much I love it.
This tea has a wildflower scent and a light flavor when you steep it for at least five minutes. And it has a wonderful smell to it as well.
Unlike Dragon well, the White monkey has a dry finish in the tea, but I know some who like teas like that, and it's not bad.
This next one, you have heard me talk about a lot. Yes, this tea is none other than gunpowder tea. This tea is in my list of "Favorite teas," and here's why.
This drink is a beautiful green tea with zero caffeine in this tea. Yes, this does have a bit of a dry flavor, but that doesn't stop me from having this drink. I love all the benefits of this drink as well. You can read about that at the end of this post.
The last tea that is in this box is the sleeping dragon. This tea is another tea on my list that is very good to have in the morning because this one has some caffeine, so instead of coffee, why not try this tea out?
A matcha tea set for a healthy life. 
Whether they're new to matcha or you drink it every morning, I sure do! They'll love this beautiful and straightforward set of matcha necessities. This super traditional set contains a single serving bamboo scoop, a bamboo Chasen (in other words, this is a tea whisk), and a ceramic chawan (a tea bowl). All they need is the Tea and their teacup, which I have both right here.
A super cute mug with an infuser and some loose leaf tea to enjoy.
Okay, as you probably know by now, many tea lovers can never (Ever) have enough cute mugs to sip the tea from, and this mug comes with a stainless steel infuser and a pack of loose-leaf Tea.
Here are just some of the cups that I like.
No matter which one you get, your friend or family is bound to love it. (I mean if you're a true tea lover then you'll love the cup for yourself or you might like to give it to someone you care about)
A bubble tea set for bubble tea lovers. 
As you know by now, Bubble tea is a delicious tea, and you can make it any way you want; but making Boba tea at home can feel intimidating, but it's fun and super easy to make with this gift. It comes with a pack of tapioca pearls, wide-mouthed metal straws, and I have links with the cute cups you can
Boba tea is a highly loved tea, and I recently had a boba tea, and I was so in love with it, so here is a kit that I have in my home, and it's super easy to make and enjoy.
An intelligent mug that keeps any Tea hot. 
As a tea lover, I know there's nothing more upsetting than a cup of tea that has gone cold. And I know as well that this happens to me too often.
But, with the Ember Mug 2, then you will never have another cold cup of tea. This intelligent (super) teacup keeps your drink inside nice and hot at temperatures that range from 120°F to 145°F.
And I have a brother who has this cup, and I might have another post that will have a Q&A about this mug from him.
Honey, that's made for Tea!
Adagio has the perfect honey for your tea!
Here's why, I love honey in my green tea in the afternoon, and with the wide variety of honey that Adagio has, it's something someone might love this year as a gift. Side note: It's perfect for stocking Stuffers
There's nothing quite like high-quality honey dissolved in a cup of Tea. Adagio tea is the only brand of honey tea that I use in my cup of tea. Tea lovers' gift is the perfect accompaniment to a nice brew of tea. But, not all types of honey are ideal for Tea, and this honey is specifically crafted to sweeten various medicines from chai to green and even Earl Grey tea. (Now that's a great deal!)
And I have a link here for some honey dippers that they will love as well.
A tea brewing basket for the loose tea lovers. 
A brewing basket is the best tea gift you can buy! This brewing basket brews loose tea leaves because it's spacious enough to let the tea leaves brew to perfection. It's also super easy to clean and will keep most tea leaf particles out of the brew. And there are even cute-looking ones as well. So if you have someone you know that would benefit from this because they love loose tea better, this is for them.
A teaspoon for your next tea gathering. 
We all love our teaspoons. So why not start something for the tea lover in your life?
My sister loves snowglobes, and so I started giving her a snowglobe every year for Christmas, and she loves all ten of them! So here's an idea.
Teaspoons are so cute and can have fun things on them. I found one while writing this post that says. "But First Tea" How cute is that!?
So, here is a link to some spoons that I think would be perfect for friends or even a family member who loves tea.
A travel mug for Tea
If you or you know a traveler, then this is the perfect gift for them.
I have two travel mugs that you can look at, and might I say when you look up, "Travel tea mug." Half the time, it's coming up with the Ember mug, which means that that cup is trendy. But, popular things are the only things that I wanted to have on my site. I want to point to the local shops around the web just like Adagio's teas!
A tin of ceremonial-grade matcha tea
Matcha green tea is a great tea if you are giving a gift to someone who may never have had tea before and wanted to try some this year.
As you may know, Matcha green tea is made from tea leaves that grow in the shade, and then it's grounded into an excellent powder that dissolves in water when appropriately whisked. The result is a fresh, energizing, and delicious tea. MatchaBar sells superior matcha that's ceremonial grade, so you can trust that this matcha will be top-notch.
A proper brew
Yorkshire Tea
If you want to give your loved one a proper brew, you need to get some Yorkshire Tea. This famous British Tea is rich and robust. This family-owned business has been producing high-quality Tea since 1886 in Harrogate, Yorkshire. The Tea itself comes from Rainforest Alliance Certified Growers in Africa and India.
Cute tea-shirts.
Everyone loves shirts right? So here are some that you might give to a loved one or buy for yourself. (Why would you not get some for yourself?)
I love shirts like this, with cute messages on them such as "I love you very matcha" see how cute that can be? But the best thing about this deal, it's low in price and that means you spend less on each shirt you buy. Here are just a few ideas that I found.
Read more:
Ten holiday teas to make your holidays awesome! This is the first Christmas post that I have on Tea Jubilee and it has many teas that I enjoy when I was a kid to now being 21 they are still good to have every year.
Rose tea. (New post)
Another thing to check out.
This website I am going to have a link for is a site that is helpful for anyone who wants to eat healthier and live a better life. Vegan Globetrotter is with many plant-based recipes and other things such as tips on best cooking things to use for making a great meal, plus reason on why being vegan is better for you. Just Click this link to go to the home page of this site that I love to make dinners from.
And that's it! I am thinking of updating this brand new page with other tea lovers gift ideas through this year and on, so check back to this page whenever you want and I hope you enjoyed the gifts in this guide, feel free to share this around with the tea lovers in your life.
Happy holidays! From: