==================
A Caveat and Affiliates
First off, a little caveat: within my articles you will find affiliate links, meaning if you buy them, I get a small commission. Your cost is not affected. In addition, I am an Amazon Associate and I earn from qualifying purchases on Amazon.
And yes, if I say that I recommend a product here, it means I truly believe it is a good product. I refuse to recommend any product that I have not researched and believe to be a good value.
Even better, I provide you with a very clear picture of the product, it's use, and the probable value.
Earning your trust is important to me. I run this website myself and the commissions and donations help support the site.
Sound reasonable and fair enough? Let's continue to the article.
==================
Calm Tea For Meditation.
I'm thinking I'd like a calm tea for meditation. Wait, is that a real thing? I assure you it really is. Finding peace from tea is not even a new thing to learn. So, let's look at what tea meditation exactly is.
I don't know how to thank God for gifting us such a wonderful beverage. You can't possibly cover the awesomeness of this drink in just an article or even in a book if you ask me (a desperate tea lover)
We'll come to the drinking part later.
Even the scent of a well-prepared tea is enough to relax your mind and soul to the deepest. And the teas that I am going to talk to you about are so healthy for you as well!
Have you ever heard about tea meditation?
Meditation and tea, does it sound weird to you?
When we wake up in the morning, mostly, we find it difficult to get out of bed. Thinking of all the daily chores and the 'to-do list' to be done by the end of the day makes us even more worried and lazy. Wondering how to overcome this laziness and how to manage stress?
We have got you covered.
Tea meditation is the perfect meditation, and undoubtedly beautiful practice that is super relaxing that helps you to stay energetic throughout the day. It best complements your sitting meditation, which is nearly impossible when you get up early in the morning.
If you are under stress because of your job, family, or study, often you find it challenging to have a sweet and sound sleep at night. Because of this, you end up being restless during the next day. And, the cycle continues, eventually making you demotivated, distressed, and lazy.
I love and prefer to have tea as my wake-up companion in the morning. It works as a kick-starter of the day and boosts my working potential.
Hence, to kickstart your day with a full energy level, we have the best meditation tea for you to enjoy. Let's say goodbye to frustration, depression, and fatigue with that one cup of flowering tea.
WHAT IS A TEA MEDITATION?
A tea meditation involves enjoying tea brewing, drinking tea, and being aware of the beautiful effects on your body and soul. In simple words, dive deep into the process, feel every moment, and transform an ordinary tea into an extraordinary meditation. What a great idea, isn't it?
It is a perfect morning ritual, a mid-day boost, and an ideal brew for a peaceful sleep. Yes, you can practice it at any time of the day. It can jump-start your day, boost your energy in the middle of the day, and brighten your mood for a good night's sleep.
I practice tea meditation after my workday. Grabbing a cozy blanket or walking on the misty green grass with birds chirping to enjoy the best sips of tea, what a cute and perfect meditation after a long-frenzied day. Satisfy your taste buds and take a break to enjoy your favorite brew.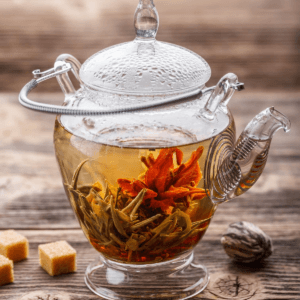 Blooming Tea Meditation
When you come back after a long hectic day, you not only need something to regain that energy to spend time with family. But also something that helps in relaxing your body and mind, allowing you to sleep peacefully without being bothered by the accumulated stress of the day. That's where blooming tea comes into action.
It's surprisingly calming to see them transform from the bulb into a beautiful flower. I could watch it all day. What else could be better than watching tea slowly bloom into a flower?
The tea smells and tastes lovely! A beautiful and enjoyable way to have tea meditation. It is one of the coolest things I ever had.
How to Practice Blooming Tea Meditation
Need a mid-day boost to start fresh for your hectic routine? Trust me blooming tea is a perfect shot for you. Let's incorporate mindfulness with blooming tea. So, are you ready?
Choose Your Favorite Calm Tea for Meditation
It doesn't matter which tea you choose to brew, how you love to brew your tea, what matters is that you enjoy the whole process, and dive deep into the entire thing. I Love blooming tea for meditation! FANTASTIC Tea.
Enjoy the Whole Process
It starts with the brewing process. For this calm tea meditation, enjoy the beauty of the brewing process. Instead of just randomly preparing your teacup, pay attention to the blooming of the flower. Engage your senses and trigger your imagination.
Choose a Clear Glass Mug
Choose a clear glass cup to enjoy the lovely blooming of flowers. To watch your "bud" grow into a flower is a delightful experience. Feel the breathtaking display by watching the whole beauty bloom through a clear glass cup. They are so fun and look lovely with my clear mugs.
Flower unfolding seems like a beautiful fish swims in an aquarium. This tea is a real spectacle in your glass, a perfect morning ritual. Don't expect it to pop right open immediately. It takes a little time for the flower to open, but it is worth the wait.
Enjoy the Warmth
Enjoy the warmth by holding glass between your palms. Smell the aromas of the flowers before you take a sip. Take a cup close to your nose and breathe in exquisitely-scented tea. Is it light or earthy? This tea tastes as beautiful as it looks. It smells like a fresh bouquet, and it looks so pretty.
Savor Each Sip
Sit in a comfortable position. Take the first sip slowly and let the tea sit in your mouth to enjoy the first burst of flavor. Let the taste spread across your tongue.
Follow the journey of tea as it enters your body as you take the first sip. Sipping this tea is so relaxing and soothing. Feel as it relieves your stress and relaxes your mind. Notice the temperature change as time passes.
Seal Your Meditation with Thanks.
Once you're done, take a deep breath, give thanks to your tea, silence and calm, to people who put a lot of effort to bring you this beauty and gratitude to health and physical abilities.
Tea will take you to another world, where there are no worries.
It's just you, tea, and beautiful moments. This moment is truly a delightful calm tea for meditation.
Are you enjoying your tea alone? Yeah, sometimes it does happen that we are looking for some "me time," but let me share a secret with you.
Sharing a cup of tea also restores the body, mind, and soul. I love enjoying my teacup with my partner and my little one. Oh, she is just obsessed with tea.
As for me, I like flowering tea. It's so beautiful when it fully blooms, and the aroma is so tantalizing. The taste is so light and delicious, my daughters and I drink cup after cup. It's an exquisite tea, especially with finger food. After this tea meditation, it's hard to go back to normal tea.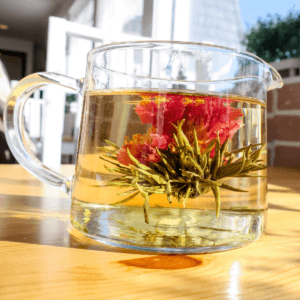 Final Remarks Regarding Calm Tea For Meditation
Blooming tea is an extraordinary tea for the body, mind, & soul. Healthy and tasty tea with an exquisite presentation when brewed in a transparent teapot. Its floral taste is almost like honeysuckle. It's healthy as you can enjoy it without honey.
I've been looking for tea for ages for a calm tea for meditation. These beautiful little creations met all of my hopes and expectations! Great meditation ever!
It smells so good, and it makes my tea look pretty. Lovely to look at & delightful to drink. It is also terrific as an iced tea. You will love this delicious meditation. Give this tea a try; you will love it!
Read More 
While enjoying your calm tea for meditation, check out these other tea articles: