==================
A Caveat and Affiliates
First off, a little caveat: within my articles you will find affiliate links, meaning if you buy them, I get a small commission. Your cost is not affected. In addition, I am an Amazon Associate and I earn from qualifying purchases on Amazon.
And yes, if I say that I recommend a product here, it means I truly believe it is a good product. I refuse to recommend any product that I have not researched and believe to be a good value.
Even better, I provide you with a very clear picture of the product, it's use, and the probable value.
Earning your trust is important to me. I run this website myself and the commissions and donations help support the site.
Sound reasonable and fair enough? Let's continue to the article.
==================
Apple Spiced Tea
When was the last time you stopped for afternoon tea? After you try the Apple Spiced Tea drink, you'll make it a regular event. I honestly love apples and spice! whoever came up with that idea I say. THANK YOU!
But with the holidays coming up this Apple Spiced Tea might just be the next drink you'll make for friends and family gatherings. I for one can't wait to make this tea so soon, not only does this tea have apples and spices but it is very healthy for you as well.
---
Total Time/Prep time: 5 mins.
Makes: 2 servings
Ingredients
1 cup of apple cider or juice (Tea Tip: Try to use fresh apples for the juice)
1/2 teaspoon minced fresh ginger root
3 whole allspice
3 whole cloves
3 black tea bags
1/4 cup boiling water
2 tablespoons brown sugar
Directions
In a small bowl, combine the first five ingredients. Add boiling water. Cover and steep for 5 minutes. Strain, discarding tea bags and spices. Stir in sugar. Serve immediately.
This Apple Spiced Tea would be great cold as well here is a recipe for you.
This tea is great if you like your teas hot, but have you thought of making it cold? Ah, is that a yes? OK check this one recipe out and let me know what you made and which was better for you. (I love the feedback)
ICED APPLE CINNAMON TEA WITH HONEY
INGREDIENTS:
4 cups water, divided
4 tea bags of your favorite apple cinnamon-flavored tea ( I love to use Celestial tea)
1 cinnamon stick
2 tablespoons honey
1-2 apples, sliced round for garnish
DIRECTIONS:
Bring 2 cups water to a boil.
Place 4 tea bags in a heat-safe pitcher and pour boiling water over tea bags and cinnamon stick.
Steep 4-6 minutes.
While tea is steeping, add 2 tablespoons honey and stir until dissolved.
Remove tea bags and add cold water to the pitcher.
Chill for at least 1 hour and serve over ice with sliced apple rounds as a garnish.
---
Wow, that was a lot of writing but I am sure your thinking. "Rebekah what about the benefits of this tea?" I have your answer right here for this Apple Spiced Tea Reicpe.
First for the apples because that is what this post is about. Apples have great benefits for everyone.
Calories: 52
Water: 86%
Protein: 0.3 grams
Carbs: 13.8 grams
Sugar: 10.4 grams
Fiber: 2.4 grams
Fat: 0.2 grams
Carbs in apples
Apples are mainly composed of carbs and water. They're rich in simple sugars, such as fructose, sucrose, and glucose.
Despite their high carb and sugar contents, their glycerin index (GI) is low, ranging 29–44
The GI is a measure of how food affects the rise in blood sugar levels after eating. Low values are associated with various health benefits.
Due to their high fiber and polyphenol counts, fruits often have a low GI score
Fiber
Apples are very rich in fiber. A single medium-sized apple (100 grams) contains about 4 grams of this nutrient, which is 17% of the Daily Value (DV).
A portion of their fiber comes from insoluble and soluble fibers called pectin. Soluble fiber is associated with numerous health benefits, partly because it feeds the friendly bacteria in your gut.
Fiber may also help improve fullness and cause weight loss while lowering blood sugar levels and boosting digestive function.

Vitamins and minerals
Apples boast many vitamins and minerals, though not in high amounts. However, apples are usually a good source of vitamin C.
Vitamin C. Also called ascorbic acid, this vitamin is a common antioxidant in fruits. It's an essential dietary nutrient that has many important functions in your body.
Potassium. The main mineral in apples, potassium may benefit heart health when consumed in high amounts.
---
Blood sugar control and type 2 diabetes
Some evidence suggests that eating apples can help lower blood sugar levels and protect against diabetes.
Some antioxidants in apples may also slow down your digestion and absorption of sugars.
Blood cholesterol and heart disease
Several studies have examined apples' effects on risk factors for heart disease.
apples can reduce total cholesterol levels and lead to drastic reductions of 48% in plaque buildup inside the arteries.
A human study in Finland showed that those who consumed more than 1.9 ounces (54 grams) of apples per day were at a significantly lower risk of developing heart disease.
Specifically, the risk of dying from heart disease was 43% lower in women and 19% in men.
Cancer
Apples have nutrients called phytonutrients that can protect against cancers of the lungs and colon.
Potential evidence exists from studies in people as well.
One study indicated that those who consumed 1 or more apples per day were at a lower risk of cancer, including a 20% and 18% lower risk of colorectal and breast cancers, respectively.
And yeah that is it but before I go I wanted to have yall check this site out it has such great recipes and goodies to make for you or your friend and family but here it is. Go ahead click here for the recipe for Blueberry muffins that are just so good to bake, My mom has made them years ago but with how they look I might make some today stay tuned for that.
---
And there you have it, two recipes you can make for this year's holiday gathering (safely). this might be the talk of the town because of how good it is,  you can thank me later. But this tea is not only good to drink during the holiday but it is very healthy for you year-round. I am thinking of my making this drink for Christmas day I will have pictures for you all soon. And if you're looking for more recipes Like  Apple Spiced Tea, look right here for more teas that you also might like to try out.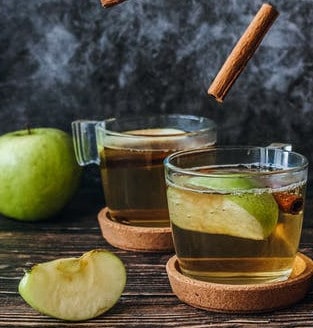 For the love of tea!