==================
A Caveat and Affiliates
First off, a little caveat: within my articles you will find affiliate links, meaning if you buy them, I get a small commission. Your cost is not affected. In addition, I am an Amazon Associate and I earn from qualifying purchases on Amazon.
And yes, if I say that I recommend a product here, it means I truly believe it is a good product. I refuse to recommend any product that I have not researched and believe to be a good value.
Even better, I provide you with a very clear picture of the product, it's use, and the probable value.
Earning your trust is important to me. I run this website myself and the commissions and donations help support the site.
Sound reasonable and fair enough? Let's continue to the article.
==================
Easy Chai Tea Recipes you can make in minutes!
Easy Chai Tea Recipes are great in the wintertime when it's cold. There are many recipes to make from online sources, and then there are some that don't work out. Here is some info on this popular drink before you make your very own.
Chai means tea! But in India, it means tea with milk. I added Milk to it when I first had it because hey, you can't have a Chai tea latte without the milk; my brother even told me about putting Nutmeg in it, at first when he told me nutmeg in my excellent cup of tea. I was thinking. "Goodness! why would I use that in my great cup of tea?" Let's say. It's so good with nutmeg, and I don't have this tea without it! This Easy Chai Tea Recipe is not going to be the Starbucks version of the famous drink (Although it's OK). This will be filled with health Benefits!
Now I am sure you are wondering how it tastes, and Chai tea, also known as masala chai, has a blend of delicious flavors and emits a spicy aroma that awakens the senses. The ginger and pepper give this spicy tea a little kick while cinnamon and cloves add an earthy tone to Chai blends.
Here are some health benefits from Easy Chai Tea Recipes! 
This Tea helps boost your energy by giving you a jolt of caffeine within minutes of your first few sips.
It helps fight against cancer, and Easy Chai tea Recipes are just a click away!
Chemo protective effect.
Studies showed that both black tea and many of the spices included in chai tea might have chemoprotective properties. If further research confirms the claims that black tea may reduce the risk of cancer, chai tea could be a winner in combining them into a delicious drink.
Aiding Digestion
Both ginger and black pepper can be very beneficial for digestion. Studies showed that black pepper and ginger could help improve your gut health and digestion.
Regulating cholesterol 
Black tea and other spices help do this, and it can help reduce the levels of bad cholesterol, which is a great thing for some people.
Anti-Inflammation
Inflammation is linked to many chronic diseases, from diabetes to Alzheimer's disease. Research has shown that both black tea and lots of spices such as ginger, turmeric, cloves, cardamom, and cinnamon show anti-inflammatory properties and help fight many diseases.
Fortunately, our easy chai tea recipes help fight that inflammation. And that means that good health tastes good, too!
Whether you're dealing with the temporary inflammation of sore muscles and swelling, or are suffering from symptoms of chronic inflammation, tea is the BEST to help reduce inflammation and provide relief from the symptoms of related illnesses.
Also, reducing inflammation can help to prevent diseases such as strokes and heart attacks. While you should always consult with a medical professional when dealing with serious illness, tea can be a tasty way to reduce inflammation symptoms daily. And with chai teas, you can add anything to it! 🙂
One of the main things I like about Chai Tea is that it helps you feel nauseous or sick. (sick as in cold, flu)
It helps your heart out as well.
Studies have shown that cinnamon (one of the main ingredients in chai) may lower your bad cholesterol and blood pressure. Black tea has also been shown to have beneficial heart effects by lowering blood cholesterol levels. While there are few studies on the direct links between chai tea and heart health, there is evidence that many chai ingredients may help build a healthy heart Researchers have found that cinnamon also contains oils that may help combat diabetes.
These compounds can help to regulate blood sugar levels. Studies have shown cinnamon can be a potential aid for people living with Type 2 diabetes. Drinking chai tea can help prevent cardiovascular disease when consumed regularly over long periods.
This food pairs well with some other delicious foods, too. Consider this Raspberry Cream Pie recipe.  We think it pairs well with the easy chai tea recipes that we share.
OK, now to the recipes!!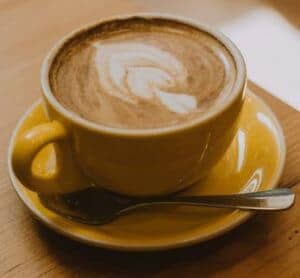 This first one will be a super Easy Chai Tea Recipes to follow.
Hands-On:5 mins
Total:20 mins Yield: Makes 4 cups
Eight cardamom seeds
Eight cloves
Four black peppercorns
Two cinnamon sticks
One 1-inch piece of fresh ginger, sliced.
2 cups whole milk
Four bags of black tea (such as Darjeeling)
Eight teaspoons sugar to taste
Directions
Step 1 Place the cardamom, cloves, and peppercorns in a resealable plastic bag and crush with a heavy skillet.
Step 2 Place the crushed spices in a medium saucepan, along with the cinnamon sticks, ginger, milk, and 2 cups water; bring to a boil. Remove from heat, add the tea bags, cover, and let steep for 10 minutes.
Step 3 Strain into cups. To each cup, add two teaspoons of sugar or add Stevia if you prefer.
What I love to do with my tea is to sprinkle a bit of nutmeg, just like I said at the start of this post. (thank me later LOL)
Here is one more perfect yet straightforward tasting recipe.
After all, when you want chai tea, you want the best easy chai tea recipes!
Spice ingredients for one pot of tea:
1/2 of a star anise star
10-12 whole cloves (depending on how strong you want it)
6-7 whole allspice
One heaping teaspoon of cinnamon bark (or two short sticks)
6-7 whole white peppercorns
One cardamon pod opened to the seeds
Other ingredients:

1-1/2 cups water
4 cups whole milk
Two heaping tablespoons of a high-quality, full-bodied broad-leaf black tea (Ceylon or English Breakfast tea.,
1/2  of Sugar.
1 In a 2-qt saucepan, add spices to 1 cup of water. Bring to a boil; remove from heat; let steep for 5-20 minutes, depending on how strong a spice flavor you want.
2 Add 4-6 cups of whole milk to the water and spices. If you don't have whole milk, you can also use non-fat or low-fat milk or even Soy Milk, a few tablespoons. Bring the milk and spice mixture just to a boil and remove from heat.
3 Add the tea to the milk and let it steep for 5 to 10 minutes to taste. (Option at this point – reheat to a simmer and remove from heat.) You can add sugar at this point, serve without sugar and let people put in the amount of sugar they want. Traditionally, sugar is added before serving.
4 Strain into a pot. Serve. Add sugar to taste.
And if you want, you could even add whipped cream to it to make it extra tasty.
And this tea is great for breakfast. and there are so many other great teas that are for breakfast as well. See some of our favorites here.  
Now for my favorite products that I use in my home
I found this tea at my supermarket years ago, and it has been great to find tea like this even on amazon! Two things about this tea.
1. It has such a strong flavor even with just one teabag!
2. This tea is just okay by its self or with some milk in it. your choice! 🙂
Easy Chai Tea Recipes are Great for those who want to learn something new to make, or if you just want a quick drink to make. These Easy Chai Tea Recipes has your back.
Interested in the finest teas to use in our recipes? We recommend these.