==================
A Caveat and Affiliates
First off, a little caveat: within my articles you will find affiliate links, meaning if you buy them, I get a small commission. Your cost is not affected. In addition, I am an Amazon Associate and I earn from qualifying purchases on Amazon.
And yes, if I say that I recommend a product here, it means I truly believe it is a good product. I refuse to recommend any product that I have not researched and believe to be a good value.
Even better, I provide you with a very clear picture of the product, it's use, and the probable value.
Earning your trust is important to me. I run this website myself and the commissions and donations help support the site.
Sound reasonable and fair enough? Let's continue to the article.
==================
ITeaworld: Oolong and Black Tea.
Are you a tea enthusiast looking to explore the diverse world of Chinese loose-leaf teas?
Look no further than ITeaworld, a Chinese tea company offering high-quality teas from different tea plantations.
Learn more about them and their story here.
This comprehensive review will delve into the flavors, aromas, and overall quality of ITeaworld's teas. Join us on this delightful journey as we discover the wonders of ITeaworld: Oolong and Black Tea.
About ITeaworld: A Gateway to Chinese Tea.
As a tea lover, you'll be delighted that ITeaworld's mission is to provide a cost-effective platform for tea enthusiasts worldwide to explore and learn about Chinese Tea.
They offer a variety of loose-leaf teas sourced from modern high-mountain tea gardens, abandoned tea gardens, old tree tea gardens, and wild tea trees.
What sets ITeaworld apart is its commitment to pure tea leaves without any blends or added flavorings.
Their teas' delicious aromas and flavors come solely from the special techniques used in their production.
To make exploring Chinese Tea even more exciting, ITeaworld provides tea samples with every order.
Whether you're a seasoned tea connoisseur or a beginner looking to discover your favorite Tea, these samples allow you to try different varieties without committing to a large package of just one kind.
Depending on the total amount spent, you'll receive various tea samples with each purchase, ranging from 2 to 4.
This was a free sample sent to me.
The Packaging: Preserving Aromas and Sustainability
Regarding packaging, ITeaworld goes the extra mile to ensure the Tea retains its aroma and is moisture-free. The individual tea samples come in carefully vacuum-sealed sachets made from a paper-like material with a thin layer of plastic-like coating.
This meticulous packaging not only preserves the freshness of the Tea but also aligns with ITeaworld's sustainability initiatives.
The larger tea packages are wrapped in the same material, although not vacuum-sealed. ITeaworld proudly promotes the recyclability of its packaging, the use of soybean ink for printing, and the sourcing of paper from FSC-certified suppliers. ITeaworld demonstrates its commitment to quality tea and environmental responsibility by prioritizing sustainability.
Brewing Methods: Traditional Gongfu or Convenient Teabags.
When brewing ITeaworld's teas, you have two options: the traditional gongfu or teabags for a more familiar experience. Let's explore both ways:
The Gongfu Method: Unleashing the True Essence of Tea
The gongfu method is the traditional way of preparing Chinese Tea and is ideal for those who want to experience the nuances of flavor and aroma.
To brew with the gongfu method, you'll typically use a tiny teacup with a cover, known as a gaiwan. Here's a step-by-step guide:
Clean and heat the teacup before use.
Place the tea leaves inside the teacup. The recommended ratio of Tea to water is between 1:20 and 1:30, approximately 70-100 ml for each sachet (around a teaspoon of Tea).
The first brew should be very short, around 3 seconds, then discarded. This initial brew is meant to wash the tea leaves.
Steep the Tea for about 10-15 seconds for the second brew.
Increase the steeping time by approximately 10 seconds for each subsequent brew.
According to ITeaworld, their teas can be brewed up to 7-10 times, allowing you to savor the Tea's flavors and aromas over multiple infusions.
Teabags: Convenience without Compromise
If you prefer a more convenient brewing method, ITeaworld also offers teabags. Place a teabag in a cup, add hot water, and steep for about a minute and a half. This method provides a hassle-free way to enjoy ITeaworld's teas, especially on the go.
Tasting the Delights of ITeaworld
Now, let's dive into the exciting part – tasting ITeaworld's teas! This review will explore their oolong and black tea selections, which offer diverse flavors and profiles.
Oolong Teas: A Symphony of Aromas and Tastes
Fenghuan Dancong: A Peachy Delight. 
The first oolong tea we'll explore is the Fenghuan Dancong. This Tea comes from old trees that are over 100 years old and offers an intense peach aroma that is truly remarkable.
The solid peach fragrance persists throughout the initial steeps, followed by roasted undertones that become more prominent in later infusions. The unique combination of fruity and roasted flavors makes this Tea stand out.
Dahong Pao: Roasted Elegance with Stone Fruit Notes
Dahong Pao, another oolong tea from ITeaworld, presents a pleasant aroma when you open the package. It carries a distinct roasted scent and hints of stone fruit reminiscent of peach. Compared to Fenghuan Dancong,
Dahong Pao offers a more pronounced roasted flavor, a slightly reduced fruitiness, and a smooth mouthfeel. It's a tea that perfectly balances roasted elegance and fruity delight.
Tie Guanyin: Floral Fragrance and Buttery Smoothness
The first Tea I tried was called. Tie Guanyin. This Tea has the smell of fresh-cut grass… It's true: This Tea smells fantastic!
The taste: It has this fresh taste of roses, yes, you just read that right, roses.
The box it came in with was cute too! It has a string on the back of the box to keep the teas nice and fresh, which I have not seen before (that's cute, too)
Tie Guanyin, with its small ball-shaped leaves, may not have a strong smell when dry, but once steeped, it reveals a delightful floral scent reminiscent of orange blossoms.
There's also a subtle vegetal aroma akin to spinach. Tie Guanyin tastes mild, smooth, and free from bitterness. It leaves a buttery sensation in the mouth, making it a delightful tea.
Minnan Narcissus: Comforting Aroma with a Unique Bitterness
Minnan Narcissus exudes a comforting aroma, although the expected floral notes may not be as prominent as anticipated.
This Tea has slight bitterness and astringency compared to the other oolong teas in the selection.
Despite the bitterness, it offers a unique flavor profile that may appeal to those seeking a more complex and refreshing tea experience.
Black Teas: Robust Flavors for All Occasions.
Black Yingde: A Robust and Versatile Brew  
Black Yingde is a black tea that boasts a robust aroma. When brewed, it exhibits a certain level of acidity and a strong flavor that pairs well with meals. Surprisingly, despite a touch of bitterness, it provides a smooth mouthfeel. The taste becomes softer and more enjoyable as the Tea cools down. Black Yingde is a versatile tea that can be enjoyed on various occasions.
Lapang Souchong: Light and Refreshing 
Lapang Souchong, made from plants grown in abandoned tea gardens, offers a pleasant aroma reminiscent of the black teas commonly consumed in Western countries. Its flavor is light and highly enjoyable, almost refreshing, making it a delightful standalone drink without the need for milk. If you're looking for a black tea that's easy to drink and packed with flavor, Lapang Souchong is an excellent choice.
Wild Souchong: A Strong Aroma and Savory Flavor
Wild Souchong is made from wild tea trees and exhibits a strong aroma that is difficult to describe but evokes memories of post-fermented teas like pu-erh. Its flavor is savory and becomes progressively smoother with each steeping. This Tea also provides a pleasant warming sensation in the body, leaving you with a satisfying and refreshing tea-drinking experience.
Yunnan Black: A Dark and Floral Profile
Yunnan Black tea offers a smooth profile similar to Lapsang but with a darker character and a more pungent taste. It features delightful floral undertones and a touch of astringency. This Tea is perfect for those who appreciate a deep and robust black tea with a hint of floral elegance.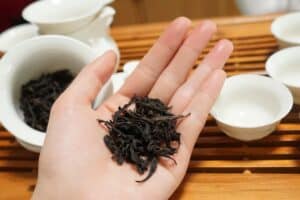 In Conclusion: Unleash Your Tea Journey with ITeaworld!
With ITeaworld, your journey into the world of Chinese loose-leaf teas becomes an exciting and flavorful adventure.
Plus their staff are very friendly and answered my many questions. They even send a link to the tracing that you can look at to ensure your box is on its way.
Their commitment to providing pure tea leaves, sustainably packaged, ensures that you can savor the authentic tastes and aromas of Chinese Tea.
Whether you prefer the nuanced flavors of oolong or the robust profiles of black Tea, ITeaworld offers a variety of options to satisfy your tea cravings.
So, why not embark on your tea journey with ITeaworld? Explore their selection, try their tea samples, and discover the wonders of Chinese Tea. With ITeaworld, every sip is a moment of pure delight. Start your tea exploration today!
Note: This article contains sponsored content. The opinions expressed are solely those of the author.
Share the joy of Tea with your friends and family!
More From Tea Jubilee.
Planting the Perfect Tea Garden!
Thank you for reading this post about ITeaworld: Oolong and Black Tea!! I hope you enjoyed it, and stay tuned for another post about Iteaworld. Have a great day!