==================
A Caveat and Affiliates
First off, a little caveat: within my articles you will find affiliate links, meaning if you buy them, I get a small commission. Your cost is not affected. In addition, I am an Amazon Associate and I earn from qualifying purchases on Amazon.
And yes, if I say that I recommend a product here, it means I truly believe it is a good product. I refuse to recommend any product that I have not researched and believe to be a good value.
Even better, I provide you with a very clear picture of the product, it's use, and the probable value.
Earning your trust is important to me. I run this website myself and the commissions and donations help support the site.
Sound reasonable and fair enough? Let's continue to the article.
==================
What is holy basil tea good for?
Have you ever seen Holy basil and think. "What is holy basil tea good for?" Well, I have the answer for you. May I say that I am so glad you're asking this great question?
This post is all about your question to what is holy basil tea good for? Keep reading to find out how it's good for you.
Here is the number 1 post for all the questions you have about this tea. First off. This is part of a series I am working on and you can go to that post if you hit this link here. And I do have 4 other posts on this site too.
Why have a started this series? Well, I am glad you're thinking about that question, and I will answer it right now.
I have a friend who has anxiety and I was looking around for teas that she could drink to help her feel better. So This is all about this and it's an awful thing to go through.
So if you want to learn about the last post I wrote about this series then Click here to read about Lemon Balm tea. And last thing (I promise) I will have some links at the end of this post so you can enjoy what sites I like.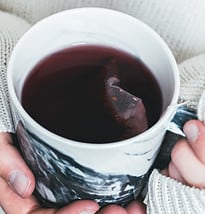 Not your basic basil
Holy basil (Ocimum tenuiflorum) isn't like the sweet basil in your mom's marinara sauce or the Thai herb you use to flavor a steaming bowl of pho.
This green leafy plant, also known as Ocimum sanctum L. and tulsi, is native to Southeast Asia. It has a history within Indian medicine as a treatment for many conditions, from eye diseases to ringworms.
From the leaves to the seed, holy basil is considered a tonic for the body, mind, and spirit. Different parts of the plant are recommended for treating different conditions:
Use its fresh flowers for bronchitis.
Use the leaves and seeds, with black pepper, for malaria.
Use the whole plant for diarrhea, nausea, and vomiting.
Use the pill and ointment form for eczema.
Use an alcohol extract for stomach ulcers and eye diseases.
Use an essential oil made from the leaves for insect bites.
Many studies support the use of the entire plant of holy basil for human use and its therapeutic value. The nutritional value is also high, as it contains:
vitamin A and C
calcium
zinc
iron
chlorophyll
Always talk to your doctor before taking supplements. Like many supplements, holy basil is not approved as a first-line treatment. It may also interact with medications you're already taking.
Health benefits of Holy basil.
Reduce stress and anxiety
All parts of the holy basil plant act as an adaptogen. An adaptogen is a natural substance that helps your body adapt to stress and promotes mental balance.
The concept of an adaptogen is a holistic approach. But scientific research shows that holy basil has pharmacological properties to help your mind cope with many types of stress.
The source of your stress can be:
chemical
physical
infectious
emotional
In the case of physical stress, holy basil is known to increase endurance in animals. Animals who had holy basil leaf extracts and went through environment-induced stress scenarios showedTrusted Source:
enhanced metabolism
improved swimming time
less tissue damage
lower stress levels in loud environments
According to the Journal of Ayurveda and Integrative Medicine, holy basil has antidepressant and anti-anxiety properties comparable to diazepam and antidepressant drugs. These studies examined the leaves.
One study found that people who took 500 milligrams (mg) of holy basil extract each day felt less anxious, stressed, and depressed. People also felt more social.
Ayurvedic practitioners recommend drinking holy basil as tea using the leaves. And since it's caffeine-free, it's OK and even recommended to drink daily. The act of drinking tea can be ritualistic and as calming as yoga. It fosters clear thoughts, relaxation, and a sense of well-being.
But if the basil's bitter and spicy flavor isn't your cup of tea, a supplement in pill form or as an alcohol extract is available. There's less risk of contamination when taking an herb in its natural form.
Stimulate and vitalize your body
Holy basil is also high in antioxidants and helps your body detox. Studies show that holy basil can protect your body against toxic chemicals. It may also prevent cancer by reducing the growth of cancerous cells.
Protect against infection and treat wounds
Extracts made from its leaves are thought to boost wound healing speed and strength. Holy basil is:
antibacterial
antiviral
antifungal
anti-inflammatory
analgesic (a painkiller)
Some people even use holy basil after surgery to heal and protect their wounds. Holy basil increases your wound's breaking strength, healing time, and contraction. Breaking strength refers to how much pressure or weight a wound can take before it breaks.
Research shows that holy basil may work against infections and wounds, such as:
mouth ulcers
keloids
raised scars
acne
Lower your blood sugar
If you have prediabetes or type 2 diabetes, all parts of the holy basil plant can help reduce your blood sugar. Holy basil can help prevent symptoms of diabetes such as:
weight gain
hyperinsulinemia, or excess insulin in the blood
high cholesterol
insulin resistance
hypertension
In the early animal study cited, rats that received holy basil extract saw a 26.4 percent decreaseTrusted Source in blood sugar after 30 days. Blood sugar in rats that were fed holy basil leaf powder also decreased after a month.
Talk to your doctor before adding holy basil to your diet. If you're already taking medications to control blood sugar, it may lower your blood sugar levels even more.
Lower your cholesterol
Since holy basil targets metabolic stress, it can also help with weight loss and cholesterol levels.
Animal studies saw significant changes in rabbits' fat molecules when they ate fresh holy basil leaves. They had lower "bad" cholesterol (LDL-cholesterol) and higher "good" cholesterol (HDL-cholesterol).
One animal study found that the oil in holy basil (eugenol) lowers stress-induced cholesterol levels. There was a reduction of total cholesterol in the kidney, liver, or heart in rats with and without diabetes after they ate holy basil leaf powder.
Ease inflammation and joint pain
Imagine being able to tackle stress, anxiety, and inflammation with a relaxing cup of tea made with the leaves of holy basil.
As an adaptogen with anti-inflammatory and antioxidant properties, holy basil provides all of these benefits. It can even help people with arthritis or fibromyalgia.
Protect your stomach
Holy basil can counteract the effects of stress-induced ulcers. It naturally increases your stomach's defense by:
decreasing stomach acid
increasing mucus secretion
increasing mucus cells
extending life of mucus cells
Many drugs for peptic ulcers have side effects and can cause discomfort in some people. Holy basil may be a preferred alternative. One animal study showed that 200 mg of holy basil extract reduced both the number and index of ulcers significantly in two-thirds of the animals.
Holy basil has been shown to boost your body's health in a variety of ways. It can help protect against infection, lower your blood sugar, lower your cholesterol, ease joint pain, and protect your stomach.
Adding holy basil to your self-care
Supplements of holy basil extract are available in pill or capsule form. The suggested dosage ranges from 300 mg to 2,000 mg per day for general preventive purposes.
When used as a treatment, the recommended dosage is 600 mg to 1,800 mg taken in multiple doses throughout the day. All parts of the plant might be used in supplements and topical ointments.
The essential oil of holy basil is distilled from the leaves and flowers of the plant.
You can also make holy basil tea using the leaves, flowers, or dried leaf powder. The herb can also be used to make freshly brewed tea by placing 2–3 teaspoons of holy basil in a cup of boiling water and letting it steep for 5–6 minutes.
The leaves are also commonly used in cooking, though some people eat the leaves raw. Holy basil tastes spicy and bitter.
There are many ways to incorporate holy basil into your daily life. You can cook with it, take it in supplement form, or make a tea with it. Holy basil is also available as an essential oil.
Safe use
Always make sure to speak with your doctor before incorporating holy basil or any other supplement into your diet.
There's not enough research to recommend use for infants, children, and pregnant or breastfeeding women. The FDA doesn't monitor the processing, quality, purity, and effectiveness of herbs or supplements.
Buy holy basil that's grown organically by a reputable source in a rural, unpolluted environment. Holy basil grown in a polluted area may contain twice the toxicity.
No negative side effects have been reported during human clinical trials. However, you should avoid holy basil if you're lactating, pregnant, or trying to conceive.
SUMMARY
Negative side effects haven't been reported in human trials, but it's recommended that you speak to your doctor before incorporating holy basil into your diet. Try to buy it from a reputable source when possible.

One more thing.
This tea is good for any time of the day! This tea doesn't have caffeine! Which makes it great to enjoy any time. did I mention the health benefits!? Ok, enough of me getting jumpy about the health benefits. This tea is filled with good things and it's easy to make!
But on to links. 
Link 1: This is too a site that I really love to go it's all about coffee. yes, I know what your thinking. 'Whoa Rebekah, tea, coffee? Why both?" Well here is why my brother started this site about a month ago and so I am linking so he can get more visits. Click here to go right to it.
Link 2 Next link is to another site that is great! It's to a site that helps out those who are caring for an sr in their family. and being that I am studying to become a CNA this site is great to learn about what I can do to help those I will be helping. Click here for the link.
And that's it! I hope you liked learning about what is holy basil tea good for? I would love it if you would let me know what you thought of this post and share it with friends and family. Have a great day my sweet friends!