==================
A Caveat and Affiliates
First off, a little caveat: within my articles you will find affiliate links, meaning if you buy them, I get a small commission. Your cost is not affected. In addition, I am an Amazon Associate and I earn from qualifying purchases on Amazon.
And yes, if I say that I recommend a product here, it means I truly believe it is a good product. I refuse to recommend any product that I have not researched and believe to be a good value.
Even better, I provide you with a very clear picture of the product, it's use, and the probable value.
Earning your trust is important to me. I run this website myself and the commissions and donations help support the site.
Sound reasonable and fair enough? Let's continue to the article.
==================
International Tea Day 2022!
You just came to a brand new post from me. it's International Tea Day on May 21st, So I wanted to write about why that day is important to understand what this day is about.
Some say it's about showing up for the workers who aren't being treated right while working for tea pickers in India and worldwide. And sadly, as I am researching for this post, there are so many sites that talk about kids being put into the tea workforce, so they don't get deported.
Check out this link below to read more on the brands that are known as Fairtrade and organic.
Here is a chart that will show you what exactly Fairtrade is all about.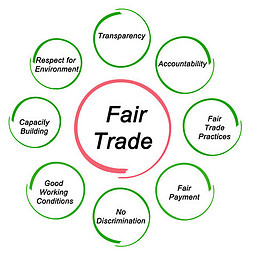 While everyone loves a cup of tea after a stressful day, there are many reasons to celebrate International Tea Day 2022. If you want to know all about this holiday, then this post is all about it.
Side note, did you know that the word Jubilee means celebration!? So Tea Jubille means I am celebrating all things tea!
Here are some fun facts about this day.
When is ITD?
Every May 21
What are the hashtags for this day on Social Media?
#TeaDay
#InternationalTeaDay
The tea industry provides millions of people worldwide with cups of tea in the morning.
One of the best ways to celebrate this day is to try a new tea that you might have heard of but aren't sure you want to try just yet; today is best to see and try something new!
When I first had the Sleeping Dragon white tea, I had no idea what this tea was and why it was a massive hit on Adiago's site.
It wasn't until my brother gave it to me with other little things that I had this tea. (Back in 2021 for Christmas) And today, I still drink the tea, and I looked into why it's good for you. And I love what I read about it.
How to Celebrate International Tea Day.
If you're a tea lover, do some research about some of your favorite companies.
You can even try to stay up to date with your tea blogs (like this one). You can also look upon the web tea brands that support fair trade and possibly switch to those brands that are also organic.
And if you are on either Facebook or Instagram, use the hashtag #internationalteaday to help recognize it as an official holiday on Facebook and Instagram.
Follow Tea Jubilee on Facebook below and let me know what you want to see more of on my site.
And one of the teas that I have had for so many years is the Matcha tea.
It is a green tea, and it does have a smooth taste that some just might like, but if not, I think Bubble teas are for those who love a bit of excitement in their teas.
When I first had bubble tea, I was just looking at it, wondering what it was and if I even wanted to try it. At the end of this post, I have links all about the taro bubble tea and what I thought.
What if you don't consume tea?
That's not a problem. I am not a girl who judges people who don't like tea. I tend to say what you can have in place of tea, like matcha lattes or even herbal teas, which are kind of like tea, but they don't have the same taste as teas would.
But, If you like teas, here are some articles that you can read to learn about what teas are good. I even have an article about Taro Bubble Tea.
So maybe you can celebrate International Tea Day 2022 with friends or even family. I sure will be sipping on some tea for sure, and it's from an online store that I have been buying tea from for almost a year now, and they are adagio.
I highly recommend their teas because they are fresh, and as I am working on this post right now, I have their Roobios Chai Tea in my tea Jubilee cup, and it's so good.
More from Tea Jubilee.
11 Most Famous Teas At Starbucks. 
Check out more!
I have other sites that I go to often, and they are filled with info on Baking, Plant care, and even a site that has yummy recipes to try out for either dinner or go right to dessert (that's me!)
Vegan Globe-Trotter is the second site where I get my dinner ideas; I tend to go to my mom for what she thinks we should have that night.
I have two other links below to check out too. I hope you give feedback on these sites and share them around.
I hope you enjoyed reading and learning about International Tea Day 2022!! I can't wait to hear what tea you like, and feel free to share any of my posts with friends and family.
Remember to keep celebrating your love of tea.