==================
A Caveat and Affiliates
First off, a little caveat: within my articles you will find affiliate links, meaning if you buy them, I get a small commission. Your cost is not affected. In addition, I am an Amazon Associate and I earn from qualifying purchases on Amazon.
And yes, if I say that I recommend a product here, it means I truly believe it is a good product. I refuse to recommend any product that I have not researched and believe to be a good value.
Even better, I provide you with a very clear picture of the product, it's use, and the probable value.
Earning your trust is important to me. I run this website myself and the commissions and donations help support the site.
Sound reasonable and fair enough? Let's continue to the article.
==================
Slippery Elm bark tea benefits
Welcome back to Tea Jubilee!!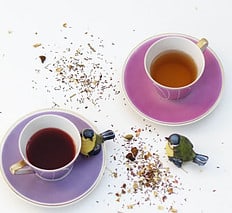 If you're just finding my site, check out my About Me page to get to know me more. Yes, it's a short and sweet page but give it a read anyway.
Let's talk about this series that this tea is in. Ready?
Click here to learn about this big series! Now, I have to say about the series. It's filled with 15 teas for your throat and I have now 9 teas, do you want to learn about all 15 teas?
If so, go to the link above and it will have many other links to posts that I have already written about those teas.
Now on to learning how Slippery Elm bark tea benefits can help you out. 

What's It Used For?
Slippery Elm bark tea benefits can be used to soothe a number of symptoms.
What are the 4 health benefits?
---
1. Inflammatory Bowel Diseases
The first Thing this Slippery Elm bark tea benefits can do it this tea helps you if you or someone you know has IBS tell them to try out this tea!
Slippery elm bark is demulcent. This means that it is capable of soothing the lining of the stomach and intestines and reducing irritation. Demulcents are sometimes referred to as mucoprotective agents.
Recent studies have shown that slippery elm bark can help treat the symptoms associated with inflammatory bowel diseases like Crohn's disease, ulcerative colitis, and irritable bowel syndrome (IBS).
---
2. Soothing a Cough and Sore Throat
Slippery elm contains mucilage, a sticky mixture of sugars that can't be broken down by the human digestive tract. The mucilage coats the throat, so it's no surprise that slippery elm is found commercially in many brands of throat lozenges.
Slippery elm is believed to be an antitussive, meaning it's great for coughs and for symptoms of other upper respiratory ailments like bronchitis or asthma. Again, there are no studies to support or refute these claims.
---
3. Irritation of the Urinary Tract
Slippery elm is sometimes recommended to people who experience unexplained inflammation of the urinary tract, like those with interstitial cystitis (painful bladder syndrome).
Slippery elm tea is thought to soothe the lining of the urinary tract. Therefore, it might help alleviate the painful irritating symptoms. Again, studies are needed to either support or refute these claims.
As a mild diuretic, it also helps increase the flow of urine and eliminate waste from the body.
4. May treat heartburn.
Slippery elm may be helpful for treating occasional heartburn, also known as acid reflux. It's also considered an herbal remedy for gastroesophageal reflux disease (GERD).
GERD is a chronic disease that occurs when stomach acid flows back into the esophagus and irritates the lining.
The mucilage of slippery elm coats the esophagus and may help prevent the irritation and inflammation that occurs when stomach acid flows up the esophagus.
If you experience heartburn or GERD, check with your doctor. He may agree to you trying a mix of 1-2 tablespoons of slippery elm with a glass of water and drinking it after a meal as a natural remedy.
How Do I Use Slippery Elm Bark?
The inner bark is dried and powdered. It's available in the following forms.
fine powder
for making teas and extracts
coarse powder
for making a poultice
For tea, pour 2 cups of boiling water over roughly 2 tablespoons of the powder and steep for a few minutes. What I like to do is add a small bit of honey because this tea is not the best tasting.
As with any supplement, be sure to read product labels and consult with your doctor before trying a supplement.
Safety of Slippery Elm Bark
While there isn't enough information to determine whether or not slippery elm bark is completely safe and nontoxic, there haven't been any reports of toxicity or side effects yet. However, since slippery elm is a mucilage, it could potentially decrease how much medicine your body can absorb and decrease its effectiveness.
To be safe, take slippery elm bark at least one hour after taking another medication by mouth. As with all dietary supplements, consult your doctor before use.
Marshmallow Root and Slippery Elm Bark – When mixed with water, these herbs transform into a mucilaginous (gel-like) consistency that coats and soothes irritated throat mucosa.
And if you want to try Slippery Elm bark tea benefits for yourself, check out the recipe down below.
When you're done with this I would love it if you would come back to this site and let me know what you think of this tea. They work magic in this recipe.
One important thing to note is that slippery elm bark is considered an at-risk species, so it's important to buy it from sources that use sustainable harvesting practices to ensure it will be available for generations to come.
Tea Tip: Use only a small amount is needed per batch, so a bag that size lasts a long time.
Recipe time!
---
Equipment
small pot and lid
strainer
Ingredients
1 ¼ cup water
1 ½ tsp marshmallow root (cut and sifted)
1 ½ tsp sustainably harvested slippery elm bark
½ tsp licorice root (cut and sifted)
1 ½ tsp peppermint leaf (crushed with a mortar and pestle)
2 tsp fennel seeds (crushed with a mortar and pestle)
Instructions
Add all ingredients to a small pot, cover, and bring to a boil. Reduce heat and allow to simmer on low (covered) for 20 minutes.
Strain out the herbs and serve.
The tea will be naturally sweet due to the licorice, but you can add honey if desired.
And that's it! You just learned not only what is in this Slippery Elm bark tea benefits, but you now know how to make it! Did it help you feel better?
But wait I do have some links for you to check out!
One link is to a site that my mom runs and is filled with great things to read as you enjoy this cup of tea. It's called Writer trail.com and click here to go to the site to find out more.
The second link is to another site of hers that is filled with goodies to make when your feeling better. This site is called. Best Baking Tips.com It has not only great tips on how to make a great thing of bread but it had recipes to make things like Lemon Blueberry bread, (I made those into small muffins but they came out great) Click here for the site.
I hope you had fun learning about Slippery Elm bark tea benefits, I hope you stop back here for another tea and more great talks!