==================
A Caveat and Affiliates
First off, a little caveat: within my articles you will find affiliate links, meaning if you buy them, I get a small commission. Your cost is not affected. In addition, I am an Amazon Associate and I earn from qualifying purchases on Amazon.
And yes, if I say that I recommend a product here, it means I truly believe it is a good product. I refuse to recommend any product that I have not researched and believe to be a good value.
Even better, I provide you with a very clear picture of the product, it's use, and the probable value.
Earning your trust is important to me. I run this website myself and the commissions and donations help support the site.
Sound reasonable and fair enough? Let's continue to the article.
==================
Cold Brew Green Tea.
Cold Brew Green Tea is a healthy alternative to coffee. Try these five ways to enjoy Cold Brew Green Tea today! Iced tea has been around for centuries, but recently there has been an increased interest in cold brew green tea.
This method involves steeping loose leaf tea leaves in cold water for several hours, which results in a more robust flavor.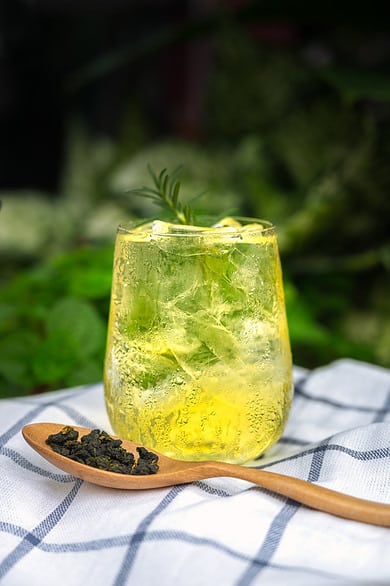 Want to learn the ways you can enjoy this tea? Then keep reading to learn more.
Enjoy it hot or cold.
If you prefer drinking iced tea, try making it with cold brewed green tea. It will give you a more intense taste than regular hot brewed green tea. You can also add some honey to sweeten up the drink.
Mix with milk and sugar for an iced latte.
Cold brew green tea is a refreshing alternative to hot brewed tea. The longer the tea steeps, the stronger the flavor becomes.
To make iced tea, mix equal parts cold brew green tea and regular brewed tea (or coffee) with milk and sugar. You can add ice cubes if you want a colder drink.
Add to hot water for a refreshing drink.
If you prefer to drink cold brew green tea instead of hot, try adding it to hot water. You can also add green tea to smoothies, oatmeal, or yogurt! I Might have to try this next time I make oatmeal in the morning.
Cold brew green tea is a delicious alternative to regular brewed tea. The longer the tea steeps, the stronger the flavor becomes. To make cold brew green tea, place one bag of green tea into a jar filled with ice cubes.
Let the tea cool completely before removing it from the fridge. You can add the cooled tea to a glass of water and enjoy a refreshing beverage.
And the best part of Cold Brew Green Tea is you can have it after working out! And it just so happens that I wrote an article about Drinking Tea After Exercise. Want to check it out? You can find the link below.
Related Article.
Less Caffeine.
Yes, you just read this right. Having Green Tea made with cold water gives you less caffeine because hot water releases more caffeine than cold brew.
Can I Add Anything To My Tea?
Ah yes, you can, there are many fruits that work well with Cold Brew Green Tea, and I have just a few of them here. You can add fresh or frozen fruit to your Cold Brew Green Tea.
Fresh: Pineapple, Lemon Slices, and Orange Slices.
You can add cherries to your tea, which helps it be a bit sweeter without the sugar rush.
Conclusion.
Cold Brew Green Tea is Healthy for you and has less caffeine than hot brewed green tea.
And you can add Anything you want to it, and it's excellent in smoothies and even oatmeal, just like Machta Tea. What do you think about this post? Let me know in the comments below.
More From Tea Jubilee.
What Is The Best Tea For Allergies?
More Links to Check Out.
We know the four ways to make this tea, but how do we start making tea? Check out this link to learn how to make your very own Cold Brew Green Tea.
I love plants, and so does my mom, who runs a website called HousePlantJoy. And it's all about houseplants. Check out their most recent post on their blog. The link is here.
This last link brings me back to my childhood, My mom would make the best Apple Crisp on Sunday mornings, and we would have enough for dessert the same day, and we then would top it off with ice cream. The recipe is right here. If you loved that recipe, rate it and even comment on your thoughts on this recipe. My mom would love to hear from her readers!
I would also love to hear what you thought of the Cold Brew Green Tea post.
Until next time. Have a great day.