==================
A Caveat and Affiliates
First off, a little caveat: within my articles you will find affiliate links, meaning if you buy them, I get a small commission. Your cost is not affected. In addition, I am an Amazon Associate and I earn from qualifying purchases on Amazon.
And yes, if I say that I recommend a product here, it means I truly believe it is a good product. I refuse to recommend any product that I have not researched and believe to be a good value.
Even better, I provide you with a very clear picture of the product, it's use, and the probable value.
Earning your trust is important to me. I run this website myself and the commissions and donations help support the site.
Sound reasonable and fair enough? Let's continue to the article.
==================
Green Tea Frappuccinos
You'll love these healthy drinks if you're looking for something different to drink on the go. Try The Green Tea Frappuccinos today!
Green tea has been shown to reduce the risk of heart disease, diabetes, cancer, and other diseases. It also helps boost metabolism and improve energy levels. And Matcha also has many benefits in it. Check the link at the end of this post to find out about Matcha Benefits.
How to make Green Tea Frappuccinos at Home.
This recipe combines two popular beverages into one delicious treat. It's easy to make and will give you an energizing pick-me-up.
If you want to enjoy a delicious green tea drink without having to go through the hassle of brewing your cup of tea, then try making a green tea frappuccino at home.
You can find premade mixes at most grocery stores, but if you want to make your own at home, here's what you'll need: 1/2 cup of ice cubes, 2 cups of milk (any kind), one tablespoon of sugar, three bags of green tea, and a blender. 
Add the ingredients into the blender and blend until frothy. 
Pour into glasses and garnish with whipped cream and chocolate shavings.
If you don't want the extra sugar, I am sure there are sugar-free whipped creams you can put on this drink. 
And now this next one is my favorite to make; why?
Because you have Matcha in this drink, Matcha has many great reasons to try out, even in tea, because it has benefits that will make you feel healthier.
I tend to mix this powder with some soy milk and berries before my karate classes, giving me the energy I need for the whole class.
Let's check out the following recipe.
The Matcha Frappuccino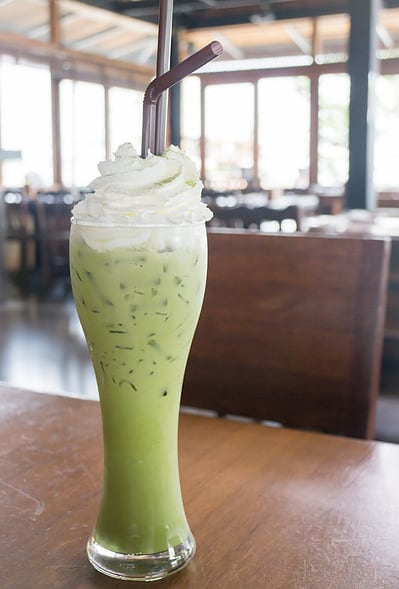 To make this frappuccino:
Combine 1 cup of milk with 1/2 teaspoon matcha powder.
Add ice cubes and blend until smooth.
Pour into a glass and top with whipped cream and chocolate syrup.
Garnish with mint leaves.
If you want to get some extra health benefits from green tea, try making yourself a matcha frappuccino.
A matcha frappuccino contains less caffeine than regular coffee drinks, which means it won't leave you jittery or wired.
Plus, it's packed with antioxidants, vitamins, and minerals.
To make one, add 1/2 cup of cold water to 2 teaspoons of matcha powder (or one teaspoon if using powdered Matcha).
Let it steep for 5 minutes, then pour into a glass and top with ice cubes and milk. Garnish with whipped cream and a cherry on top.
Conclusion.
Okay after writing this article. now I want to try these out sometime soon; they sound good! Agian you don't have to use real whipped cream if your trying to stay away from the extra sugars and cal. I mean if you live in a hot part of the world I am sure you'll try this out soon. It helps you cool down but don't replace this with water, you still should drink your water.
More From Tea Jubilee.
How is Matcha Tea Good For You?
How Tea Makes Your Day Better.
10 Tea Rituals Around The World.
More Links To Check Out.
Now, I did mention a blender and So here is the one I use this thing in my kitchen whenever i make a smoothie for karate class and it's a dream of mine to have this thing in my kitchen and it's perfect for making this recipe! The Nutribullet Pro 900 Series Blender.
And that's it for now, I am so glad you took your time to read about Green Tea Frappuccinos and how to make two wonderful drinks, I hope you will share this with those who might benefit from this post.
Have a great day! From.